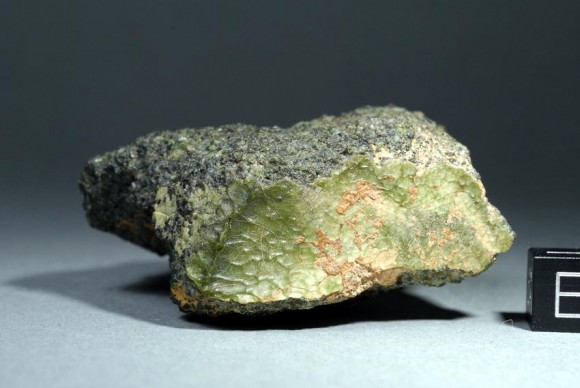 Pieces of the Moon and Mars have been found on Earth before, as well as chunks of Vesta and other asteroids, but what about the innermost planet, Mercury? That's where some researchers think this greenish meteorite may have originated, based on its curious composition and the most recent data from NASA's MESSENGER spacecraft.
NWA 7325 is the name for a meteorite fall that was spotted in southern Morocco in 2012, comprising 35 fragments totaling about 345 grams. The dark green stones were purchased by meteorite dealer Stefan Ralew (who operates the retail site SR Meteorites) who immediately made note of their deep colors and lustrous, glassy exteriors.
Ralew sent samples of NWA 7325 to researcher Anthony Irving of the University of Washington, a specialist in meteorites of planetary origin. Irving found that the fragments contained surprisingly little iron but considerable amounts of magnesium, aluminum, and calcium silicates — in line with what's been observed by MESSENGER in the surface crust of Mercury.
more here: http://www.universetoday.com/99745/is-this-meteorite-a-piece-of-mercury/