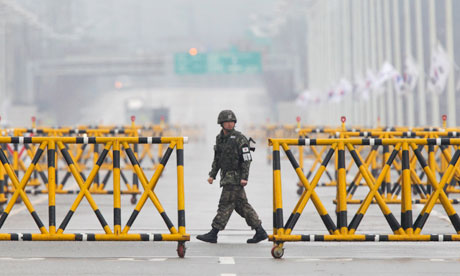 South Korea is bracing for a protracted standoff with the North that could include at least one missile test-launch and a border skirmish.
On Friday, North Korea attempted to heighten fears of military conflict when it told embassies in its capital, Pyongyang, that it could not guarantee the safety of their staff in the event of war. In another sign that it is determined to increase the pressure, Pyongyang extended a ban preventing South Korean officials from entering the Kaesong industrial complex – which it operates jointly with the South – for a fourth day.
A government official in Seoul said there was no indication of an exodus of foreign diplomats from the North, despite the warning. "We don't believe there's any foreign mission about to leave Pyongyang," the official told the Yonhap news agency. "Most foreign governments view the North Korean message as a way of ratcheting up tension."
The message to embassies came as US officials confirmed media reports that North Korea had moved two medium-range missiles to its east coast. The Musudan missiles, with a range of 1,865 miles, are capable of striking South Korea, Japan and US bases in the Pacific. Possible launches are expected to be tests rather than targeted strikes, and may be timed to coincide with the 101st anniversary of the birth of North Korea's founding father, Kim Il-sung, on 15 April.
In response, South Korea has sent Aegis destroyers equipped with advanced radar systems to both of its coasts. The US had earlier said it would speed up the deployment of missile defence systems to Guam, a US Pacific territory whose military bases Pyongyang has identified as targets. Officials in Washington offered a measured response to confirmation that the North had mounted two missiles on mobile launchers. "We've obviously seen the reports that North Korea may be making preparations to launch a missile and we're monitoring this situation closely," the White House press secretary Jay Carney said. "And we would not be surprised to see them take such an action. It would fit their current pattern of bellicose, unhelpful and unconstructive rhetoric and actions."
more here:
http://www.guardian.co.uk/world/2013/apr/07/north-korea-missile-launch-cyberwar-fears