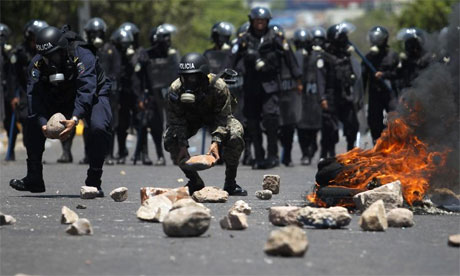 In Honduras, Reagan-era atrocities are back as the Obama administration funds a state implicated in murdering opponents.
Five young men walk down a quiet street in Tegucigalpa, Honduras. A big black SUV pulls up, followed by a second vehicle. Two masked men with bullet-proof vests jump out of the lead car, with AK-47s raised. The two youths closest to the vehicles see that they have no chance of running, so they freeze and put their hands in the air. The other three break into a sprint, with bullets chasing after them from the assassins' guns. Miraculously, they escape, with one injured – but the two who surrendered are forced to lie face down on the ground. The two students, who were brothers 18- and 20-years-old, are murdered with a burst of bullets, in full view of the camera. Less than 40 seconds after their arrival, the assassins are driving away, never to be found.
The high level of professional training and modus operandi of the assassins have led many observers to conclude that this was a government operation. The video was posted by the newspaper El Heraldo last month; the murder took place in November of last year. There have been no arrests.
Now, the Obama administration is coming under fire for its role in arming and funding murderous Honduran police, in violation of US law. Under the Leahy Law, named after Vermont Senator Patrick Leahy, the US government is not allowed to fund foreign military units who have commit gross human rights violations with impunity. The director general of Honduras' national police force, Juan Carlos Bonilla, has been investigated in connection with death squad killings; and members of the US Congress have been complaining about it since Bonilla was appointed last May. Thanks to some excellent investigative reporting by the Associated Press in the last couple of weeks – showing that all police units are, in fact, under Bonilla's command – it has become clear that the US is illegally funding the Honduran police.
So, now we'll see if "rule of law" or "separation of powers" means very much in a country that likes to lecture "less developed" nations about these principles.
Why would the Obama administration so stubbornly support a death squad government in Honduras, going so far as to deceive and defy Congress? To answer that, we have to look at how the current government of Honduras came to power, and how violent repression of any opposition plays a big role in keeping it there.
more here:
http://www.guardian.co.uk/commentisfree/2013/mar/30/congress-us-support-honduras-death-squad-regime?utm_source=twitterfeed&utm_medium=twitter