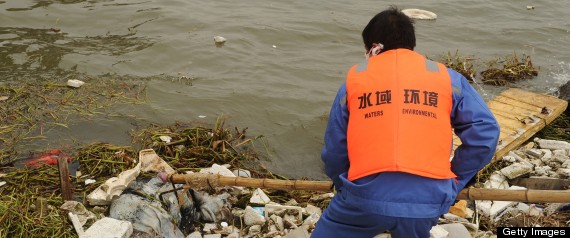 Chinese authorities have a new mystery to ponder after 1,000 duck carcases were found floating down the Nanhe river in the country's Sichuan province on Tuesday.
As with the puzzling count of dead pigs -- now totaling 16,000 -- found in the Huangpu river and its upstream tributaries in the last several weeks, the government has yet to offer an explanation for the phenomenon.
Liang Weidong, an official with the county's publicity office, told Xinhua, China's state news agency, the rotten birds had been found tucked into 50 woven plastic bags, from which they were removed before being sanitized and buried. As the Nanhe is not a source of drinking water, authorities say the waterfowl pose no threat to public health.
That assurance, however, seems to have had little effect with some Chinese citizens voicing their distrust on Sina Weibo, China's version of Twitter. Writes one person, in a translation provided by Financial Times, "How can you tell they are harmless when you don't know how the ducks died?"
Another poster, under the username Baby Lucky, added via the BBC, "Dead pigs, dead ducks ... this soup is getting thicker and thicker."
Thick soup, indeed.
Though the appearance of ducks is a new development without even a speculative explanation, the Wall Street Journal has tentatively linked the pig carcasses to questionable "deadstock disposal" practices in the country.
more here: http://www.huffingtonpost.com/2013/03/26/dead-ducks-china-river_n_2951711.html?ncid=edlinkusaolp00000003