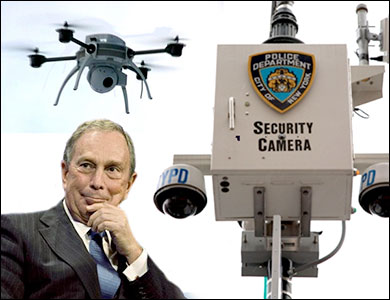 New York Mayor Michael Bloomberg is more concerned about citizens deciding to buy Big Gulps than the prospect of a high-tech Big Brother state violating their privacy with drones.
Bloomberg dismissedwanton violations of the Fourth Amendment as inevitable during his weekly WOR radio program.
"We're just going into a different world, uncharted," he said. "Like it or not, what people can do – or governments can do – is different and you can to some extent control [it], but you can't keep the tides from coming in. We're going to have more visibility and less privacy. I don't see how you stop that. It's not a question whether I think it's good or bad, I just don't see how you can stop that because we're going to have them."
Bloomberg then said he opposes legislative remedies to a high-tech panopticon state where citizen-subjects are under constant surveillance. He characterized opposition as counterproductive demagoguery.
"Everybody wants their privacy but I don't know how you're going to maintain it," he continued. "This is something that society really has to think about, and not by writing a quick piece of legislation. These are long-term, serious problems. Whether we have the discipline to approach problems that way, I don't know. I mean, Everybody demagogues on all these things; there's some serious issues before you write legislation."
Bloomberg's response is predictable considering the New York City government has embraced drone technology. New Yorkers reported random sightings of unidentified drones after NYPD Commissioner Ray Kelly expressed his desire to add the technology to the "arsenal of surveillance tools [that] could come in handy during future mass protests in the Big Apple," RT reported in January.
more here:
http://www.infowars.com/nanny-bloomberg-drone-panopticon-inevitable-2/