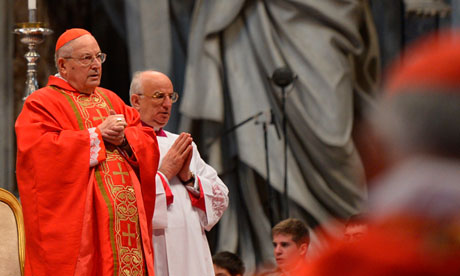 Roman Catholic cardinals have been urged to overcome divisions at a special mass ahead of the papal conclave, just hours after anti-mafia investigators carried out a string of raids in the diocese of the leading candidate.
In a homily before thousands of pilgrims and the most senior figures in the church, Angelo Sodano, the dean of the college of cardinals, made a last-ditch attempt to banish infighting, as he extolled the virtues of unity amid diversity.
But even as preparations for the mass were being made, Cardinal Angelo Scola, the archbishop of Milan – and reportedly the hot favourite to be the next pope – suffered a blow.
Anti-mafia detectives swooped on homes, offices, clinics and hospitals in Lombardy, the region around Milan, and elsewhere. A statement said the dawn raids were part of an investigation into "corruption linked to tenders by, and supplies to, hospitals".
Healthcare in Lombardy is the principal responsibility of the regional administration, which for the past 18 years has been run by Roberto Formigoni, a childhood friend of Scola and the leading political representative of the Communion and Liberation fellowship. Until recently, Scola was seen as the conservative group's most distinguished ecclesiastical spokesman.
But he has progressively loosened his ties to Communion and Liberation, and in early 2012 publicly rebuked the movement after its leader was found to have written to Pope Benedict, implicitly criticising the cardinal's liberal predecessors in the Milan archdiocese.
The regional administration headed by Formigoni – a member of Silvio Berlusconi's party – collapsed last October amid a welter of accusations regarding alleged corruption and misconduct. The final blow came when one of his regional ministers was arrested, accused of buying votes from the 'Ndrangheta, the Calabrian mafia.
Formigoni himself is a formal suspect in an investigation into corruption and conspiracy. He denies the accusations.
Among those arrested on Tuesday was Massimo Guarischi, who in 2009 was given a five-year jail sentence after being convicted of conspiracy and auction-rigging. Guarischi is said to have organised expensive holidays for Formigoni that are central to the investigation into the former governor's affairs.
Scola, who has headed the Milan archdiocese since 2011, is regarded as the champion of a largely non-Italian faction that is challenging the entrenched power of the Vatican cardinals. He was close to the last pope, whose household was run by women members of Communion and Liberation.
SOURCE